Hold Me Tight® Group for Couples invites both newly-married or long-time partners to learn how to address stuck patterns, make sense of your partner's inner world, and deepen connections to feel safe and loved.
Each week, we will watch video examples of other couples and see how they learned to improve communication and strengthen their relationship. Discover how to increase your experiences of emotional responsiveness, develop a sense of safety and closeness, and practice communication skills through guided, private exercises with your partner. All experiential work is done privately between partners, followed by group discussion. No one is required to share personal experiences with the group.
You'll learn how to:
•  Understand why you get stuck in recurring patterns of conflict – and how to break them
•  Help your partner understand what you really need to feel safe and loved
•  Repair and forgive emotional injuries
•  Feel more accepted and connected
•  Deepen your emotional and physical connection
Based on the Hold Me Tight book, which you can order in advance to use later on as a reference as you practice and reinforce what you've learned.
Session 1–Understanding Love and Attachments
Session 2–How Love Goes Wrong: The Demon Dialogues
Session 3–Finding the Raw Spots
Session 4–Fixing Mistakes and Creating a Secure Base
Session 5– Becoming Open and Responsive
Session 6–Forgiving Injuries and Trusting Again
Session 7–Tender Touch and Synchrony Sex
Session 8–Keeping Your Love Alive and Caring for Your Relationship
No matter the stage of your relationship, this group is designed to help  you create a more harmonious, loving bond with your partner. All couples in committed relationships are welcomed, regardless of race, national origin, sexual orientation, age, or religion. Please note, however, that EFT is not appropriate for situations where ongoing affairs, abuse or substance addictions exist.
Upcoming groups: TBD, in-person groups are paused until the danger from Covid-19 is past.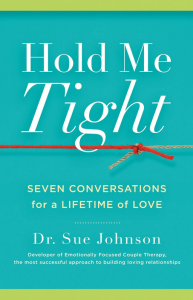 Hold Me Tight® Group for Couples is based on Emotionally Focused Therapy, a proven therapy model backed by 20+ years of research. Nearly 75% of couples move from distress to recovery and 90% show significant improvement.
$399/couple
REGISTRATION IS LIMITED