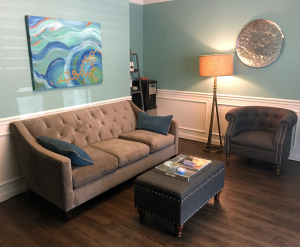 109 Holiday Court #D6
Franklin, Tennessee 37067
615-241-0234
My private practice is conveniently located in Franklin, TN near Cool Springs, about 1/2 mile off Interstate 65 at exit 65 (TN-96/Murfreesboro Road). You will find my office up one flight of stairs (note: there is no elevator) in a cozy office condo that I share with two other therapists.
There are two designated parking spots located directly outside the door of our suite D6; if both are filled you are invited to park near the rear of Building C, just a few steps away.

How to get started:
Call me at 615-241-0234 or email barbara@barbarawyer.com to request an appointment. Or you may fill out the contact form below. I'm able to respond most quickly by email and usually return calls within 24–48 hours.
We're all just walking each other home.
– Ram Dass